The multi-award-winning actress Gillian Anderson talks to Lydia Slater, editor-in-chief at Harper's Bazaar, about female empowerment, her career on stage and screen, and playing Margaret Thatcher in the new series of The Crown. Plus, Julia Gillard, the former Prime Minister of Australia, shares insight into the past, present and future face of female leadership.
Moderated by Lydia Slater, acting editor-in-chief at Harper's Bazaar.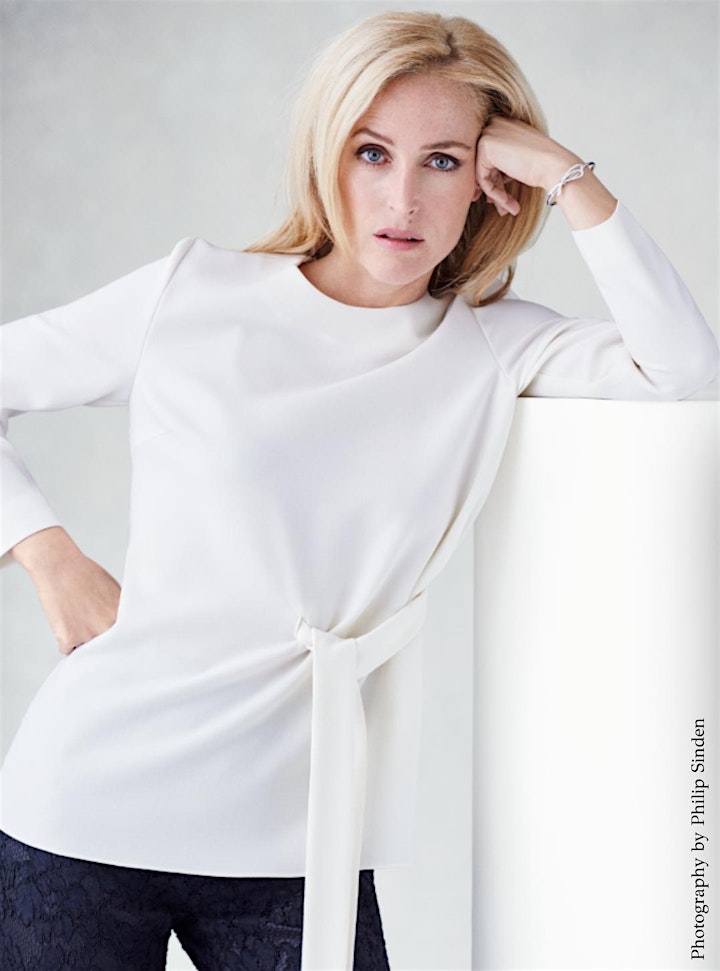 BOOK YOUR TICKETS NOW
GENERAL ADMISSION (£15) includes access to the live stream. Available internationally.
VIP TICKETS (£40 ) includes access to the live stream, plus the delivery of a Harper's Bazaar gift bag directly to your door. Available UK-only.
Please note that this event will be available on-demand for all ticket holders.
VIP GIFT BAG (INCLUDED IN VIP TICKETS ONLY)
VIP ticket holders will receive 1x gift bag including a notebook, kindly gifted by Aspinal of London, a luxury beauty product and the latest issue of Harper's Bazaar magazine.
Orders must be placed before 09.11.2020 6pm to ensure arrival of gift bag before the event. Orders placed after might result in a slight delay in the delivery.
When ordering, please make sure to fill in your preferred delivery address along with a contact number.
WHY NOT EXPLORE THE FULL SCHEDULE?
Head to Bazaar At Work Week to explore the full schedule with themes such as the power of inclusion, the future of the office and how to navigate the uncertainties of the post-Covid landscape.
WANT TO PURCHASE ACCESS TO ALL 4 SESSIONS?
If you're based in the UK, you can also purchase the ALL ACCESS - VIP (£75) ticket, which includes 1x gift bag delivered to your door in addition to access to all four sessions.

About: GILLIAN ANDERSON
The award-winning film, television and theatre actress Gillian Anderson achieved international recognition for her role as Special Agent Dana Scully in the American TV series The X-Files, for which she won an Emmy, a Golden Globe and two Screen Actors Guild awards. Her television credits have included Bleak House, Great Expectations, The Fall, Hannibal, American Gods and War and Peace; this year, she is about to begin filming the third series of Sex Education, in which she plays the sex therapist Jean Milburn, and in November, she will take on the role of Margaret Thatcher in Netflix's The Crown. For her stage work, Anderson has been nominated three times for an Olivier Award, including for her performances as Margot Channing in Ivo van Hove's 2019 West End adaptation of All About Eve and Blanche Dubois in the Young Vic Theatre's 2014 production of A Streetcar Named Desire. On screen, she has starred in films such as The House of Mirth (2000), The Last King of Scotland (2006) and Crooked House (2017).
Full details of Hearst Terms & Conditions, Hearst Data Protection & Hearst Privacy Notice.
_________________________________
FAQs
How can I access the live stream?
On the day of the event, we will send you an email with instructions on how to access the live stream via your desktop, tablet or mobile.
What do I need to access the live stream?
Similarly to a YouTube video, all you will need is a device that supports JavaScript, which most technical devices do as a standard. We recommend watching on a computer or laptop for the best experience, but the stream will also work on mobile and tablet.
Can I watch on my mobile / laptop?
Yes, all streams will be available to watch on any device. However, we recommend watching on a computer/laptop for the best experience.
Will I be able to watch on-demand?
Yes, as a ticket holder, you will be able to watch your selected session on-demand, shortly after the original live event has happened.
Can I share the live stream with a friend?
No, the link to the event is unique to you so your friend will need to purchase a ticket to gain access.
Where will my gift bag get delivered to?
As part of the registration process, we will ask you to fill in a delivery address. The delivery will need to be signed for on arrival, so please ensure to fill in your preferred delivery address.
When will I receive my gift bag?
We anticipate sending out all gift bags to attendees approx. seven days before the live event. Please expect your gift bag to arrive approx. three to five days before the virtual event.
My gift bag hasn't arrived, what now?
If your gift bag hasn't arrived three days ahead of the event, you can get in touch with us at hearstevents@hearst.co.uk and we will look into it.
Will I be able to track my gift bag?
No, you won't be able to track the delivery of your gift bag.
Will someone need to sign for my gift bag?
Yes, for security purposes, the courier will require a signature upon delivery to your home.
I need to change my delivery address, how can I let you know?
Please get in touch with hearstevents@hearst.co.uk and we will look into it. Please note, that it might affect the timely arrival of your gift bag.
Do I need a webcam to access the stream?
No, you won't need a webcam to access the stream.
I don't live in the UK, can I buy a ticket?
Yes, if you're tuning in from overseas, you can purchase a General Admission ticket (£15) to access the live stream. Unfortunately, due to delivery restrictions, VIP tickets are only available to residents in the UK.
What is the refund policy?
Please note, that tickets are non-refundable and non-transferable.
I can't find the answer to my question, how I contact the organiser with any questions?
Please email hearstevents@hearst.co.uk and we will be able to help.
_________________________________
Please note we reserve the right to refuse tickets and/or entry to our events at our sole discretion. In such circumstances, your ticket cost will be refunded to you.